Welcome To Madurai Samaritan Trust & Aadarsh Elder′s Care Centre
About Us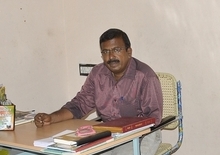 FOUNDER / MANAGING TRUSTEE
Madurai Samaritan Trust is a Public Charitable Trust registered under Trust Act, recognized by the government of Tamil Nadu.. Likeminded people, whose passion is to serve the needy community, started this trust. The motto of the trust is "CARE, COMFORT & COMPASSION". AADARSH ELDERS′ CARE CENTRE was established under this trust. This old age home was started to fulfill the need of elder people. The Founder and Managing Trustee of this trust is a Sociologist. He worked as a Public Relation Officer, Counselor and Geriatric Care Manager among the elders for the past 10 years. In this tenure, he mingled with hundreds of old age people, rendered his service to them. He did his research in effect of recreational activities among elders in recouping. The other trustees of this trust are philanthropists, shouldered up for the betterment of the elder community.
AADARSH ELDERS′ CARE CENTRE wants to give a dignified life to the elders in home environment.
Mission Statement
Wholistic care in geriatrics, palliative and hospice should reach every individual of the sick elderly and poorest of the poor of our nation without any discrimination.
Vision Statement
Create and develop centers for geriatric, palliative and hospice care in each block of every district in India with the help of local interested Youths, Social Workers, Government Officials and Political Leaders.
Creating awareness about the responsibility of elderly care and geriatric studies among children and youth.
Training the youths and children in geriatric care and providing resources for geriatric research.
Career guidance in geriatric care